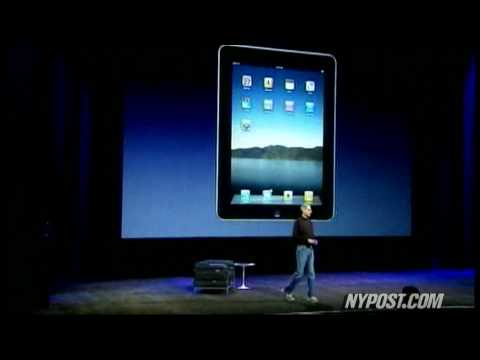 The unveiling of Apple's new product, the iPad, really embodies a lot of what Lister discusses in Ch. 1 of his book. Here is a "new" medium that attempts to transcend "traditional" internet communication and increase interactivity with the product. Now, not only do we have laptops and smartphones (some might put the iPhone in its own category), but we have an in-between product! The limitations of both the iPhone and the laptop have produced something that resembles a giant iPhone, but has much more expansive capabilities.
Lister discusses the difference between "extractive" and "immersive" interaction with a medium and the new iPad tries to break away from hypertextual navigation and become more immersive. Lister states "Instead of a text-based experience aimed at finding and connecting bits of information, the goals of the immersed user will include the visual and sensory pleasures of spatial exploration." Like the iPhone, the iPad has multi-touch sensors (something like 1500 of them) which allow navigation to be more immersive because you are spatially interacting with the device instead of just "point and click". One example of increased immersion that stood out to me was the new e-reader that is featured on the iPad. The iBooks app is a perfect example of how "old" media is being transformed into "new" media. A user can explore books by looking through digital shelves of books and tapping on a book to read some details on it. No longer do we have to sit on Amazon and scroll through a list of books and click each one to bring up a separate webpage for that book. Now we can browse through virtual shelves by swiping the screen and tapping on a book for a pop-up window of details. Apple has really tried to make their new product much more immersive than a traditional laptop and have expanded the capabilities of an iPhone so that it is bigger, more hi-def, and easier to navigate through digital newspapers, books, and magazines (not to mention increasing gaming usage with its HD display and interactive gesture controls). It also has a full QWERTY keyboard on a very thin, sleek, and portable device that connects to wifi and 3G. A blogger's dream.
Apple attempts to transcend traditional boundaries in digital media. It has made connections from a GPS map to digital photos by allowing users to "geotag" their photos to not only share images, but maps of where the user has been. Again, instead of just flipping through photos of a person's trip to Romania, an Apple user is able to spatially explore their friend's trip in a map and have multi-touch gestures available to see exactly where that photo was taken and what preceded it. Apple has already presented this technology in their laptops, but now there is the ultra-portable iPad to do this anytime. The lines between traditional media and "new" media are continuing to blur and the Apple iPad moves us one step farther in that direction.